This is a MUSIC forum. Irrelevant or disrespectful posts/topics will be removed by Admin. Please report any forum spam or inappropriate posts HERE.
Moderators: bandmixmod1, jimmy990, spikedace
BREAD IS GREAT!

PRAISE CHALLAH!!!!
Very professional.
Here comes Treble!

listen to Meezerpocalypse - INGRID - Spinning Backwards (Keiton Eb Blues open collab)[Meezerpocalypse Remix] on the cloud of sound.

my original music made J Haley "want to barf"
Nice job PG... are you guys going to do any recordings... studio-wise? Wouldn't mind hearing a bit of production from you guys.
Bacon and cigarette's a lousy dinner...
schmedidiah wrote:Very professional.
well, let's say
more
professional than the other front porch and living room videos! No shots of the crowd cos there wasn't much of a crowd there.
Sarah's husband shot that and one more we played earlier, "Dry Town"... he came up w his phone as we counted in, and planted his phone right in front of Sarah's face which we both thought was hilarious.
Well, we launch into the tune and she and I are struggling not to fall on the floor laughing cos we are screwing the song up so bad. It's got a swing feel....but we started playing it straight, then I hit a wrong change, then her, and it kept getting worse from there. Now, before you think how very UNPROFESSIONAL of us....understand that this NEVER happens to us...I mean we do NOT screw up! Or screw up bad enough that anyone besides us would ever notice...but this is such a train wreck it's all we can do to keep from rolling on the floor now, and besides, we knew 10 seconds in, hell...even from the countdown... the video is gonna be worthless and never see the light of day.
Needless to say, I won't be sharing that one anytime soon, but I'll be keeping it because it's a riot and if there was ever any doubt that we're having a good time....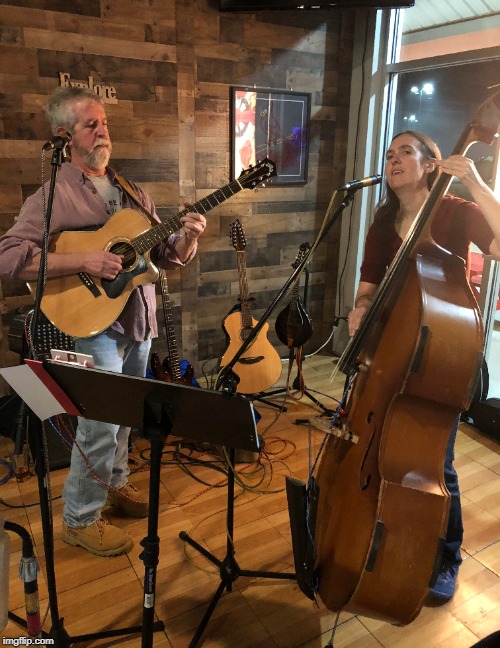 BREAD IS GREAT!

PRAISE CHALLAH!!!!
Jahva wrote:Nice job PG... are you guys going to do any recordings... studio-wise? Wouldn't mind hearing a bit of production from you guys.
thanks.
Right now we have a handful of originals we're playing, Two of Sarah's songs and six of my instrumental JazzGrass tunes. We easily have enough tunes (those origs, plus cover tunes) that we have more than enough to cover the three hr gigs we play, but we're both into regularly adding new tunes to the list. It's actually one of the things we really enjoy doing ....tune hunting.
We get together once a wk toward that end, usually at a prct room at one of the colleges in Columbia MO and it is SUCH a pleasure having rewarding, fun practices where you actually accomplish a lot... this after spending months spinning wheels on unproductive practices w THE SPINCASTERS (rockabilly band that recently played our last gig and has sailed off into sunset). i swear, I've never been around ANYONE as clueless and unproductive as those mofos when it came to getting $hit done at prcts.
Sarah and I haven't collaborated yet on any originals, but we plan on hitting it hard come January, and I'm really looking fwd to that. It's been a while since I've co-wrote w anyone. After we get some more orig tunes together, we'll definitely be recording some of it. But for right now the focus is on performing and adding new tunes to keep things fresh cos' we've got a lot of dates up on the calendar. (let's hear it for those UNPROFESSIONAL videos!)
When it comes time to record a cd we'll have to decide whether to keep it "duo instrumentation" or go big and flesh the tunes out w additional instrumentation.
BREAD IS GREAT!

PRAISE CHALLAH!!!!
Kept forgetting to check this out. There's a low hum in the recording (a/c or something going). Get a few more like this and edit together a 'best of' showcasing the different pairings of instruments.
My reverbnation site: http://www.reverbnation.com/mikebirchmusic
Youtube: http://www.youtube.com/mikebirchmusic
Facebook: http://www.facebook.com/mikebirchmusic
Oh, man.... That "low hum" was coming from behind the bar (loud ass compressor) and was anything but "low" as we were playing.

It was great getting out into the night's quiet after listening to it thru the gig.
BREAD IS GREAT!

PRAISE CHALLAH!!!!
Who is online
Users browsing this forum: No registered users and 8 guests